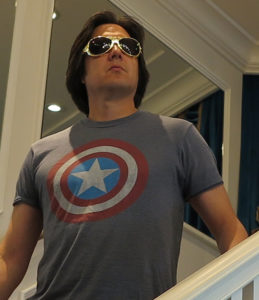 Lance Lucero
USA, Colorado
Owner and Operator of Warehouse 9 Productions, Ltd.
AWARD WINNING Independent Filmmaker (who shoots on film) and Comic Book creator.  Writer and podcaster for Comic Crusaders.
Francisco Resendiz
Mexico
Art Director.  Concept Design.  Comic Book Illustrator and Colorist.  Frustrated Gamer!
Many years of experience in advertising and post production.  Currently focused on concept design, comic book art, and traditional animation.  Always thinking, practicing, and learning.
behance.net/ supersonikostudio
supersonikostudio. tumblr.com/
Kurt Hathaway
USA, Los Angeles
Comics lettering & book design / video maker
Kurt has lettered comics for just about everybody in the business: DC Comics, Marvel Comics, Dark Horse, Image, Malibu, Eclipse, and tons of others. His ComicBookdb profile lists almost 400 individual series representing nearly 2,000 individual issues with his personal touch.  He also has some Hollywood movie credits on IMDB. Kurt lives in Los Angeles with his lovely bride, 2 kids, and magical unicorn.